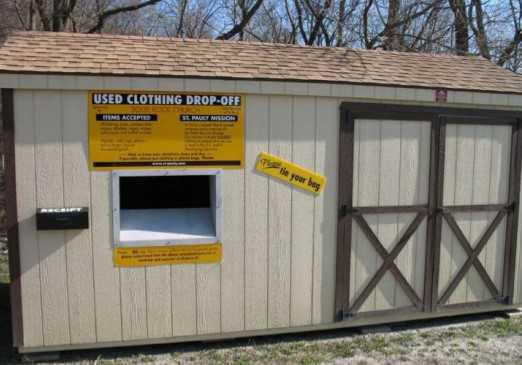 We encourage you to consider donating your Canal Fulton Christian Fellowship (CFCF) sponsors a "clothing drop off shed" as a fundraiser and service to the community. The shed is provided by St. Pauly Textile who installed one of their clothing collection sheds (pictured above) at the church (2021 Locust St. S. in Canal Fulton) for the community to use as a drop off for clothing, bedding, shoes andother items. The clothing will be distributed all over the United States and world to those who can use it. CFCF will in turn receive 4 cents for every pound of clothing that is donated.
This program keeps clothing out of the landfill, helps out those in need, and helps out CFCF with funding. Through our partnership with St. Pauly CFCF raised $422.29 through the shed in 2020.
St. Pauly is a family-owned company based in Upstate NY and is an A-plus rated member of the Better Business Bureau. St. Pauly collects useable clothing, shoes, sneakers, belts, purses, linens, blankets and drapes. In 2013, more than 60 million clothing garments were distributed to an estimated 7.5 million people all over the world through the St. Pauly program.
St. Pauly currently has over 800 clothing drop off sheds all over NY and parts of OH, PA, CT, MA, and VT. For the complete list of sheds and more information about St. Pauly and what you can drop off, visit http://www.St-Pauly.com.
The shed is always open so feel free to drop off items at any time! There is easy access to our shed is in the back of the parking lot (follow the signs) and you can pick up a receipt at the shed for tax purposes.
Thank you for helping CFCF and for helping us and St. Pauly help others around the world!